The Diplôme de Cuisine Le Cordon Bleu offers students the most rigorous and comprehensive program in classic French culinary techniques available today.
The Diplôme de Cuisine is awarded when the student has successfully completed the Basic, Intermediate and Superior levels. Students can only register for one level (e.g. : Basic) and can continue to another level later on (in a limited time frame). Even with previous professional experience, students must begin with the basic level before accessing the next level.
The student will receive a certificate for each level completed. After successful completion of the Diplôme de Cuisine and the Diplôme de Pâtisserie the Le Grand Diplôme is awarded.
All demonstrations are given in French and translated into English.
Basic Cuisine* (B)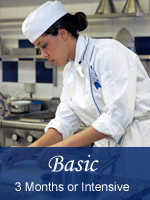 This program introduces traditional French culinary techniques. The students will learn:
French culinary terms & definitions
Organization, hygiene and safety in the kitchen
Professional knife handling and introduction to diverse cuts
Classic French techniques
Learning foundations : stocks, sauces, forcemeats & doughs
Storage methods
Intermediate Cuisine (I)
Prerequisite: Basic Cuisine Certificate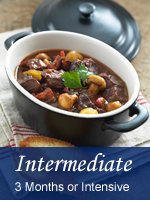 This level puts into practice all the techniques acquired in the basic level, introducing different flavors and influences of French regional cuisine.
In-depth study of classical cuisine and French regional cuisine
Product origins and influences on regional cuisine
Perfecting professional kitchen skills
More advanced technical cuts and presentation
Taste analysis and the use of seasonings & flavorings
Introduction to color, taste and texture combinations
Superior Cuisine (S)
Prerequisite: Intermediate Cuisine Certificate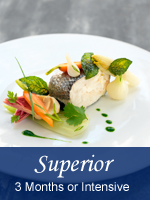 Precision and efficiency in the kitchen
Mastery of intricate techniques and methods
Recipe production with rare, high quality produce
Mastery of classical cuisine
Adaptation of menus based on the season and product availability
Development of personal creativity
Consult the next course dates
Apply to the Cuisine Diploma
schedule
The schedule for the cuisine program is based on 3 to 4 demonstrations and 3 to 4 practical classes per week.
Le Cordon Bleu offers 2 Intensive courses per year: in June for the basic level and in November for all levels. The course follows the same curriculum as the standard program. These programs are intensive (6 to 9 hours per day, 6 days a week), and students can only take one at a time : cuisine or pastry.
internship *
After successfully completing the Diplôme de Cuisine, the most deserving students have the possibility of perfecting their skills through a 2-month internship in renowned Parisian establishments. A good level of French is required for the internship.
* Le Cordon Bleu does not guarantee an internship for each student
The total cost for Le Diplôme de Cuisine is 24 500€ (The uniform and the equipment are included.)