The Diplôme de Pâtisserie Le Cordon Bleu offers students the most rigorous and comprehensive program in classic French Pastry techniques available today.
The Diplôme de Pâtisserie is awarded when is awarded when the student has successfully completed the Basic, Intermediate and Superior levels. Students can only register for one level (e.g. : Basic) and can continue to another level later on (in a limited time frame). Even with previous professional experience, students must begin with the basic level before accessing the next level.
The student will receive a certificate for each level completed. After successful completion of the Diplôme de Cuisine and the Diplôme de Pâtisserie the Le Grand Diplôme is awarded.
All demonstrations are given in French and translated into English.
BASIC PASTRY* (B)
This level is an introduction to French pâtisserie and presents the fundamental techniques of pastry doughs, creams and fillings necessary to achieve successful creations.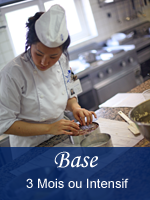 Basic doughs
Introduction to creams and fillings
Traditional desserts and cakes
Classical techniques, basic decoration
Masking and glazing
Introduction to yeast doughs (croissants and brioches)
Basic French pâtisserie terminology
PATISSERIE INTERMEDIAIRE (I)
Prerequisite: Basic Pastry Certificate
At this level, students perfect their skills in decoration and presentation. They are guided by the chefs in the realization of their artistic pastry creations. In the program: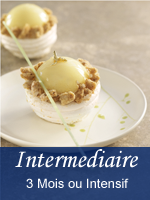 Artistic decorative skills
Variations on restaurant desserts
Savory petits fours
Introduction to bread baking
Mastering Bavarian creams and mousses
Caramel and nougatine
Introduction to chocolate: tempering & dipping
PATISSERIE SUPERIEURE (S)
Prerequisite: Intermediate Pastry Certificate
The purpose of this course is to enable students to develop their own personal creativity, to perfect their artistic talent and to prepare them for their professional life. They will study: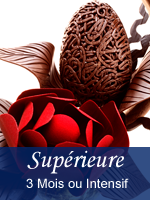 Modern, traditional and prestigious restaurant desserts:

Modern entremets, tarts, Yule logs and petits fours. Emphasis on decoration and presentation In-depth study of flavors, aromas and spices.

Chocolate Art:

Tempering, molded chocolate candies, mixing different chocolates and textures, chocolate boxes and flowers, molding chocolate shapes and sculptures for a center pieces.

Artistic Sugar Creations:

Techniques of cooking, coloring and pulling sugar Pulled sugar flowers & ribbons. Blown sugar spheres.

Consult the next course dates
Apply to the Diplôme de Pâtisserie
Schedule
The schedule for the cuisine program is based on 2 to 3 demonstrations and 2 to 3 practical classes per week
Le Cordon Bleu offers 2 Intensive courses per year: in June for the basic level and in November for all levels. The course follows the same curriculum as the standard program. These programs are intensive, (6 to 9 hours per day, 6 days a week) and students can only take one at a time : cuisine or pastry.
Internship *
After successfully completing the Diplôme de Pâtisserie, the most deserving students have the possibility of perfecting their skills through a 2-month internship in renowned Parisian establishments. A good level of French is required for the internship.
* Le Cordon Bleu does not guarantee an internship for each student
The total cost for the Diplôme de Pâtisserie is 18 900 € (The uniform and the equipment are included.)